Come Join Us For Family Time!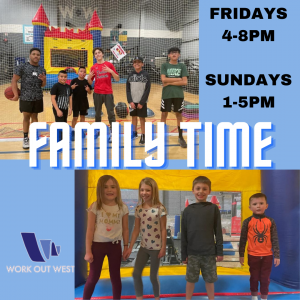 Family time is every Friday from 4-8pm and Sundays from 1-5pm. Members can bring their children to bounce in our bouncy houses, walk on the track and play basketball or racquetball. This is a great opportunity to teach them about fitness and the gym. Children must be accompanied by a parent at all time and must stay off of the weight equipment and out of the hot tub, sauna and steam room.
COME SEE WHAT FAMILY IS ALL ABOUT!!!
Want to try us out?
At Work Out West, we offer a free consultation so you can experience all that our gym has to offer. With our wide range of services, including personal training, group classes, and more, you can find the perfect workout for you.