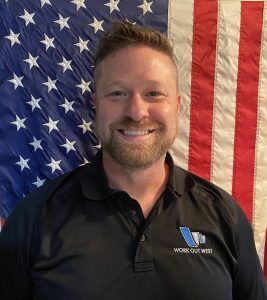 Helping others with overall health, strength, and fitness has always been my passion. My training methods include setting realistic goals focusing on nutrition and the frequency of workouts. Additionally, I focus on teaching proper techniques and form to prevent injuries. Combining these aspects, I help clients become healthy, happier versions of themselves.
A little about me: I started my training career while stationed in Washington DC with the United States AirForce President Honor Guard. One of my many duties was to develop health programs to keep my unit in shape while we traveled the world with the Presidential Drill Team.
After my tour in the military, I returned to Greeley, where I became the head trainer at the Conditioning Spa for seven years. As my client base grew, I ventured out and opened my gym, "Team Tom." After a successful five years in business, I was unfortunate, like so many others, and was forced to close Team Tom when the 2020 pandemic hit.
Looking forward and never behind, I am now excited to call Work Out West my home and a new base to train clients. I hope to earn the opportunity to train and help many reach their fitness potential.
"Fly-Fight-Win"